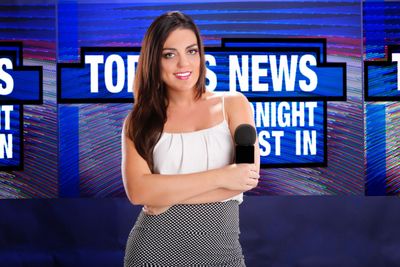 TV Host & Interviewer
Born and raised in South Florida Christine Curran has always been a rising entertainer. She started as a musician and dancer in high school to then become a full-time model and actress. Her career began as a hobby. While going to college she would do photo-shoots in her spare time. Surprisingly, it really took off when the economy took a hit and so did her full-time commission job. This was her chance to chase her dreams. With a degree in marketing/advertising, Christine got right to work networking and applying for gigs in South Florida.
The past 10 years she has made quite a name for herself. Some of her big credits include hosting for Playboy TV, hosting for Florida Cycling News, International Print ads for Sex Drive Energy Drink, Statewide print ads for Harley Davidson in Bikes and Beauties Magazine, Regional commercial for Broward Bar Hunter on Spike TV, 2009-10 contracted lingerie model for LaDiDa Lingerie featured on billboards and the seasonal catalog. As well as a ring girl for Don King's Sizzling Summer Match, cover girl for the LA Xpress in California, Catalog model for Yasida Gifts resort wear 3 years in a row, actress in the movie "Beware" alongside co-star Victor Gonzalez, choreographer/dancer for the 2 Live Crew music video "Take It Off", actress for international commercial on Mother's Day for Amerijet and Host for VIP TV for 4 years.
Looking for more ways to bring in new viewers for VIP TV and create more revenue, Christine created the VIP TV model search which was a huge success. With 50 models competing for 12 Miss VIP TV titles, tons of sponsors, celebrity judges, and over 450 attendees, the show was a hit. She took the 12 winners to Bimini for the first ever VIP TV calendar shoot.
Christine states that she has accomplished so much with these words to live by, "All I want is everything being realistic it is the most commonly traveled path to mediocracy."
As a former host for VIP TV on the CW and Mundo Max, Christine Curran then launched "On The Mic" featuring the hottest celebrity interviews and events. The show is produced by RedAv and distributed throughout the world to Europe, Asia and more through Cinemania TV and Estream TV.
Her tv interview credits include sit-downs with Scott Storch and Vanilla Ice. Curran has covered events such as Miss Universe interviewing Donald Trump, Lisa Vanderpump, and Jeannie Mai. Her interviews range from iconic 80s superstars such as Brett Michaels and Tom Keifer to the infamous Miami Housewives such as Lisa Hochstein, Lea Black, and Karent Sierra. Christine hammed it up on Halloween with reality stars Kaitlyn Bristowe and Shawn Booth from the most-watched reality series, The Bachelorette. She's talked with Disney superstars Peyton List and Austin Mahone. The list of professional athletes she's interviewed stem from "Jon" Jay, Juan Gomes, Jeff Conine to Dennis Rodman, Howard Davis Jr, Bryant McKinnie, and Fred Taylor. Of course, you can't forget the superstars, Flo Rida, Christina Milian, Jonathan Cheban, Khandi Alexander, Amadou Ly, Coolio, Vanilla Ice, Omar Benson, Bone Thugs N Harmony, Trina and Millionaire Matchmaker Patti Stanger.
Christine decided it was time to do something more creative with her tv production talents which led to "Dining Divas" the hottest new restaurant review show to hit South Florida. It has a feel of Drive-ins, Diners and Drives meets the Housewives. Its a reality tv style show that takes you to the hottest places to dine accompanied by your favorite local foodies and celebs in South Florida. Because…. "Everyone Wants To Dine Like A Diva".